Enjoy the traditional flavours of a juicy pork spit roast with our unique spit roasting kit. Our sturdy spit pole comes with a 240v motor and can be used to slowly cook a pig of up to 80kg! That's a huge hog. It can also be used to cook a full lamb too.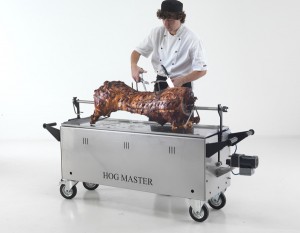 When you hire a hog roast machine from us, consider this accessory to really make the most out of our roasters. You can monitor the cooking process through the roasting machines viewing panel but to ensure real drama for your event, create a spectacle by raising it into the service position, when done, and carving away in front of your guest's very eyes. The smells that will fill the venue, garden or marquee, are unbeatable!
To keep your meat warm after carving, slide the craving tray beneath and use as a hot plate.
Our spit roast kit proves a huge hit with catering business and restaurants time and time again. Whether you want to hire or buy, you won't regret this investment towards your catering results. Give us a call today to find out more.